Bottes Alico Ski Boots BC
EN: The boots are sized in US sizing and with testing so far they are running up to 1/2 size bigger then normal.

The boots are full grain leather with a rubber rand around the base of the sole. We use a medium stiff insole for ski control. There is some closed cell foam insulation as well. The soles are from Vibram and are a little thicker then the soles on the Alpina Alaskas (see image).
Sizes will come in women's 7-10 and men's 7-13
Binding System: 75mm
FR: La charte des grandeurs est en US et après quelques tests effectués jusqu'à présent, les bottes sont jusqu'à 1/2 point plus grandes que la normale.
Les bottes sont en cuir avec une bande de caoutchouc autour de la base de la semelle. Nous utilisons une semelle intérieure moyennement rigide pour le contrôle du ski. Il existe également une isolation en mousse à cellules fermées qui isole bien en température froide. Les semelles proviennent de Vibram et sont un peu plus épaisses que les semelles des Alpina Alaskas (voir image).
Les tailles seront disponibles en 7-10 pour femmes et 7-13 pour hommes
Système de fixation: 75mm
Taille / Size. Choisir 1/2 point plus petit. Choose 1/2 point smaller than your size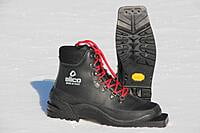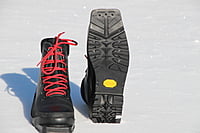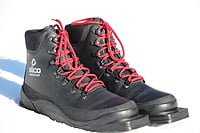 EN:

We contacted Alico Boots in Italy and started a conversation about getting some 75mm boots from them. Alico is from the very old boot making region in northern Italy, home to most of the hand crafted leather telemark boots used in the 1980s and 90s. Nils had worked with them a bit in the past (with Karhu) and knew they did excellent work on their boots. We ordered some samples and tested them in a variety of conditions . We were able to customize the boots somewhat and ended up with a great boot from them that will pair well with the Hoks, balancing touring ability, ski control, and downhill performance.
FR:
Nous avons contacté Alico Boots en Italie et avons entamé une discussion sur la possibilité de leur acheter des bottes de 75 mm. Alico est originaire de la très ancienne et réputé région de fabrication de bottes située au nord de l'Italie. Cette région abrite la plupart des fabricants de bottes de télémark en cuir conçues à la main et utilisées dans les années 80 et 90. Nils avait travaillé un peu avec eux dans le passé (avec Karhu) et savait qu'ils faisaient un excellent travail sur leurs bottes. Nous avons commandé des échantillons et les avons testés dans diverses conditions. Nous avons pu personnaliser quelque peu les bottes et avons fini par obtenir une excellente chaussure qui se mariera bien avec les Hoks, équilibrant la capacité de randonnée, le contrôle du ski et les performances en descente.